DAIHATSU DIESEL
Marine Engines
For centuries marine transportation has been the mainstay of global logistics and materials movement. These days, with thousands of large merchant ships, tankers, freighters, and such like supporting the global economy, attention has turned to safer, eco-friendly marine navigation.
History has seen the proliferation of the diesel engine in ocean-going vessels, and growing in tandem with that has been DAIHATSU DIESEL, engineering and implementing high-performance engines, building up years of actual achievements and integrating all factors that customers' have looked for: reliability, durability, environmental consideration, NOx reduction, low noise and low vibration, and so forth. Today's DAIHATSU DIESEL engine is not simply our newest model; it is the culmination of over 100 years' experience, testing and customer feedback.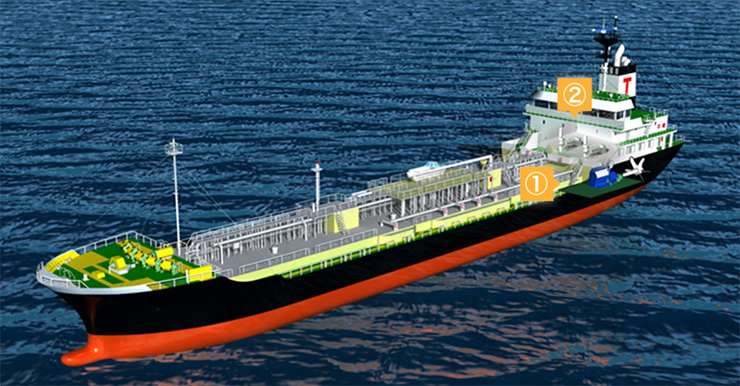 Propulsion system/6DCM-32F
Compact, lightweight, high economic efficiency, high environmental performance Mid-speed engines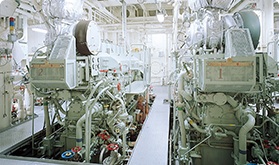 Auxiliary system/6DK-20e
Low fuel consumption – Reliability and durability to cope with NOx
Compact, lightweight mid-speed engines with high economic efficiency and environmental credentials
Powerful, Economical, Navigable, and Eco-Friendly – DAIHATSU DIESEL's Engines Will Meet Your Expectations
DAIHATSU DIESEL ensures customer satisfaction by not only constantly improving basic performance but also challenging our new technological developments to be eco-friendly. Our geared diesel engines have garnered trust in all aspects, such as power, economy, and ship manoeuvrability, and have received high praise as advanced, future-oriented engines.
Eco-friendly and economical electric propulsion systems
The popularisation of the next generation "eco-ship" has facilitated the development of electric propulsion. Through electronic propulsion, the CO2 and NOx emissions of moving vessels can be reduced, alleviating the pressures on the Earth's environment – a task which our company continues to challenge.
Low fuel consumption – Reliability and durability to cope with NOx
DAIHATSU diesel generation equipment has been exerting high reliability and durability as the generators for electric power supply to all kinds of merchant ships, tankers, freighter which support material flow/logistics of marine transportation, while it has been keeping technical ability and recognition of the "DAIHATSU Brand of high quality." In addition, DAIHATSU continues to positively undertake the task of environmental technologies which are earth-friendly and are requested by this era regarding environment/energy, to cope with the needs of customers promptly as a leading company of this business field.
Next generation high reliability engines compatible with multi-fuel
Further reducing the environmental impact of our engines we introduce our DF engine lineup: dual-fuel engines that switch seamlessly between gas and liquid fuel and, unlike a conventional diesel engine, can cut NOx by up to 80% during gas mode operation. This series brings together tried and tested technologies from our accredited diesel and gas lines into one economic solution.
NOx reduction technology for IMO Tier3 regulation
While deterioration of earth's environment is becoming international problem, reduction of NOx (nitrogen oxide) and SOx (sulfur oxide), etc. discharged from ships is enforced, and these reduction technologies are attracting further attention.
Our company has been conducting daily research and development of eco-friendly ship engines on the basis of MARPOL Convention which regulates atmospheric pollution by ships.
Related apparatus that increases the reliability of engines
The technologies and know-how accumulated by DAIHATSU DIESEL are applied and utilized not only for diesel engines but also in a variety of ways.
Our specially developed apparatus provides support for the whole system and improves reliability.